Close to the Museu do Traje, the Monteiro-Mor park is one of the most pleasant in the whole town. It is an
excellent area to watch passerines.

Birds:
Ring-necked Parakeet, Barn Swallow, House Martin, Grey Wagtail, Wren, Robin, Blackbird, Song
Thrush, Blackcap, Chiffchaff, Firecrest, Coal Tit, Blue Tit, Great Tit, Jay, Spotless Starling, Serin,
Greenfinch, Goldfinch

Location
in northern Lisbon, at
Lumiar, close to Calçada de
Carriche

Underground
Yellow Line (Lumiar)

Bus
3

Opening Hours
10 a.m. to 6 p.m.
closed Monday all day and
Tuesday morning

Access
€ 2

At the Monteiro-Mor park, the Ring-necked Parakeet can often be seen perching on the largest trees.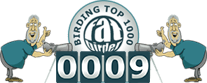 This is a beautiful park in the northern part of the town. It has several large trees, which provide shade and
make it possible to take a pleasant walk.

The place is protected from the surrounding noise by a large wall. Here it is possible to find several
interesting species. After passing the entrance, there is a small lake where the Grey Wagtail is regular. In the
nearby trees it is possible to find the Ring-necked - these birds are often hard to spot among foliage, but their
loud calls can be easily heard.

As one penetrates the park, the vegetation gets more and more dense and the birdlife is dominated by
several species of passerines, such as robins, blackcaps and tits. Some times a Jay is seen flying from one
tree to another. In winter, one can expect to find the Chiffchaff and the Song Thrush.