Garden of the Calouste Gulbenkian Foundation

This is a pleasant garden with large trees and a lake. It is a rather quiet place which is quite suitable for
birdwatching. It is the best place in Lisbon to see the Moorhen.

Birds:
Mallard, Moorhen, Ring-necked Parakeet, White Wagtail, Wren, Blackbird, Blackcap, House Sparrow,
Serin, Greenfinch

Location
Avenida de Berna, close to
Praça de Espanha

Underground
Blue Line (Praça de
Espanha or São Sebastião
Red Line (São Sebastião)

Buses
16, 56, 718, 726, 742

Opening hours
open during daytime hours

Access
free of charge

The largest lake usually holds Mallard and Moorhen - these birds are very tame here and can be seen very well

Apart from the main lake, there is also a small lake, which also holds waterbirds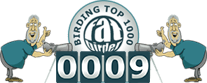 The main feature of this garden is the large lake that lies in the middle. Mallards are always present (although
these birds seem to be of feral origin), but the Moorhen can also be found here and it breeds regularly, taking
advantage of the dense growth, which provides cover when there is too much disturbance.

Apart from the lake, one should also dedicate some attention to the garden itself. In the more open areas,
covered with short grass, it is possible to see the White Wagtail, the Blackbird and the ubiquitous House
Sparrow. The trees hold common garden birds such as Serins, Greenfinches and Blackcaps. The exotic
Ring-necked Parakeet sometimes turns up here - these sightings probably refer to birds coming from the
Estrela garden, which holds a large roost of this species.